Polished Buffalo Horns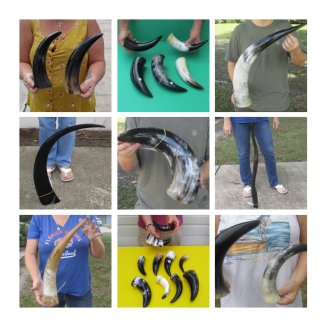 Our Polished Water Buffalo Horns, imported from India, are sold in sizes from 6 inches up to 45 inches. The large polished horns are shiny black in color while the smaller horns have a marble look with a mixture of whites, tans and blacks. Some horns will stand freely while others need support. We also have polished buffalo horns with wide bases, but most of our horns have a narrow base. There may be a tiny drilled hole near the tip done to release the pressure for removal of the inner bone. We imported these horns from India. These beautiful polished horns can be used in home décor, knife making or in numerous arts and crafts.
Shop Here and Save!! All our polished buffalo horns are priced way below retail. We are importers of water buffalo horns from India -- NO MIDDLEMAN!!

We Ship Priority Mail (2 -3 day shipping) (NOT UPS) for Eastern and Central U.S. for packages weighing UNDER 3 lbs.
Can Only Be Shipped Within the US