Polished Kudu Horns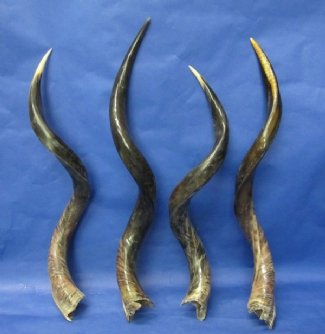 Polished Kudu Horns Wholesale and individually, from the African Greater Kudu,
Tragelaphus strepsiceros
. We stock polished kudu horns from 20 inches up to 49 inches, measured around the curl of the horn. Our Polished kudu horns have had the outer rough layer buffed smooth and have visible ridges. The underside of the kudu horn has been removed and then polished to a shine.
Greater kudus are found in Eastern and Southern Africa. They are one of the tallest antelopes and have spiral shaped horns. All our kudu horns are

real

-

not replicas.



Can Only Be Shipped Within the US

This website offers numerous wholesale priced products, but wholesale pricing is not available on all products. Our Wholesale Website is: www.atlanticcoral.com