Purple Barnacle Clusters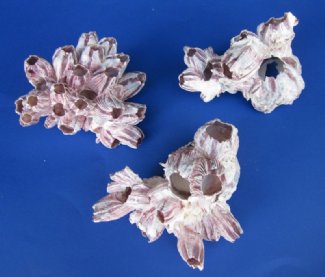 Natural Purple Barnacle Clusters,

Megabalanus tintinnabulum

, a species of barnacle found in West Africa and in parts of the Indo-Pacific. The name refers to the fact that small groups of barnacles resemble clusters of minature bells, as the Latin tintinnabulum means handbell.

We stock sizes from 3 inches up to 12 inches, sold in 1 piece, 2 piece, and in wholesale case lots. These natural purple barnacle clusters are used to display air plants, in seashell crafts and in home decorating. They also

provide an excellent hiding area for small fish and are a colorful accent to the fish tank; However, a

salt water fish expert must be consulted for details on how to introduce barnacles into a tank

. No 2 will be identical. They will vary in size, shape and shading.


We Only Ship Within the United States.