Sea Urchins, Sea Fan Coral, Sea Sponge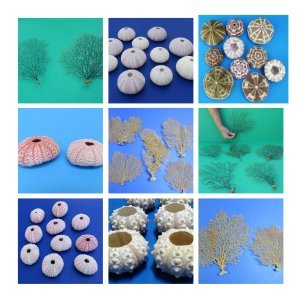 We have a wide selection of sea fan coral for sale including dried red sea fan coral, dried black sea fan coral and sea urchins wholesale in case lots and in 10 and 20 piece lots from the Pacific oceans for air plant displays and for crafts. Also carry natural sea sponge in sizes 4 inches to 7 inches. Our pink sea urchin shells are 1-1/4 inch to 1-1-3/4 inches in size; the purple sea urchin shells are 1-1/2 to 2-1/8 inches. Also for displaying air plants we have the sputnik sea urchins for sale which look like little land mines because of all the nodules that cover its body. For all the shell craft people, we carry the colorful alfonso sea urchin shells that can vary from deep greens to purple and come in a variety of interesting patterns.. They are sold in a pack of mixed sizes of 2-1/2 inches to 3-7/8 inches. Most of these are sold in packs of 10 and the wholesale cases, with a significant discount, can have up to 1000 urchins.
Our Products Cannot Be Shipped Outside the US.