Shark Jaws, Shark Teeth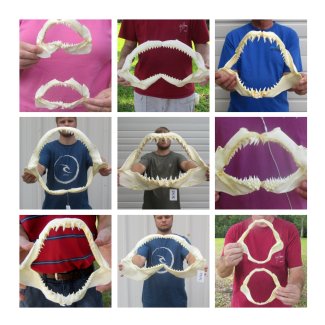 Sharks are utilized all around the globe as an important food source. So that no part goes underutilized, we have hand selected Shark Jaws that you can purchase. We carry a large variety of Mako Shark Jaws and Teeth, Large Shark Jaws, Smaller Shark Jaws and everything in between. All of our shark jaws and shark teeth can be used to create stunning wall plaques, shark tooth necklaces, pendants and so much more! Let your imagination soar and start creating with one of our ethically sourced shark jaws and teeth today. *Please use caution as these are real shark jaws and the teeth are extremely sharp.*
Shop Here and Save! We are direct importers of Shark Jaws and Shark Teeth -- NO MIDDLEMAN!


We Ship Priority Mail (2 -3 day shipping) (
NOT UPS
) for Eastern and Central U.S. for packages weighing UNDER
3 lbs
.



We Only Ship Within the US
Browse these categories under "Shark Jaws, Shark Teeth"