Small Animal Skulls, Claws - 1st Class Mail - Free Shipping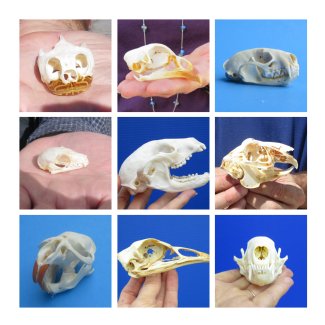 First Class Mail Shipping and Free Shipping is available on Small Animal Skulls and Animal Claws packages weighing under 13 ounces and priced under $25.00. Choose 1st Class Mail shipping for bat skulls, chicken skulls, turkey skulls, jackrabbit, mink, muskrat, turtle, skunks and raccoon skulls and all animal claws, including badger claws, bobcat claws, red fox claws, and other animal claws. Perfect for bargain hunters requiring a cheaper shipping method. Allow at least 10 days for receipt of our items.
1ST CLASS MAIL SHIPPING - ALLOW 5
TO 10 DAYS FROM DAY OF MAILING FOR RECEIPT.
WE WILL APPLY THE
1ST CLASS MAIL
POSTAGE TO YOUR TOTAL SHIPPING PAID IF YOU ORDER OTHER ITEMS. WE REFUND EXCESS SHIPPING CHARGES.