Thick African Porcupine Quills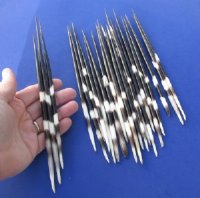 Thick African Porcupine Quills for sale, sold in bundles of 50 and 100 pieces in sizes Up to 5 inches; 4 to 5-7/8 inches; 5 to 6-7/8 inches and 6 inches to 7-7/8 inches. The bundles may contain a few quills that are either above or below the size range ordered. Additionally, the thickness will vary from quill to quill.

Some quills will be thicker than others

. When the porcupine raises its quills they present a white strip down its back, mimicking the look of a skunk.

Quills are released by contact or may drop out when the porcupine shakes it body. New quills grow to replace lost ones Porcupine quills

are used for traditional decorative clothing and in Native American quillwork and art..

These quills were imported from South Africa and sourced from the African's Government's culling program.
These are real porcupine quills. The quills are VERY SHARP!!!


Quills Cannot Be Exported.