Turban Shells - Turbo Seashells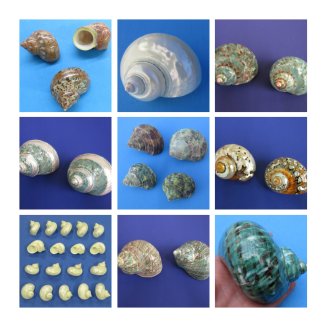 We carry small, medium and large Turban Shells, turbos, including polished jade turban shells, half pearlized green turbos, pearl banded jade turbo seashells, white turban sea shells, the turbo sarmaticus and the largest of the turban shells, the Turbo Marmoratus. They range in size from 1 inch up to 7 inches. We offer generic shells where we will select nice quality shells for you and hand picked seashells where you buy what is pictured. All will be selected out of our large inventory. All of our turbo shells are
100% real
, and imperfect. They will have natural imperfections from living in the oceans and aging.
Shop Here and Save!! All Our Turban Shells Are Priced Way Below Retail. No Minimum Order! We Also Offer "Hand Picked" Turban Shells Where You Buy What You See -- NO Surprises!

Priority Mail (2 day shipping) is CHEAPER, most of the time for packages weighing UNDER 3 lbs. Check rates for both UPS and USPS!