Turtle Skulls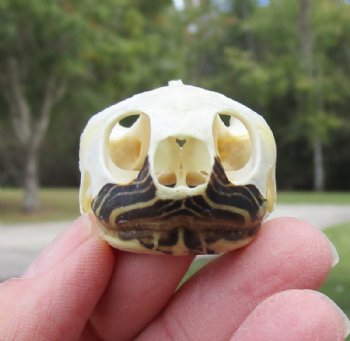 Choose to buy Wholesale River Cooter Turtle Skulls in Bulk or Common Snapping Turtle Skulls Wholesale or buy just one skull. These are
real
river cooter turtle skulls and real common snapping turtle skulls. They and have been cleaned, whitened and are ready for adding to your skull collection.
The river cooter (Pseudemys concinna) is a freshwater turtle that is usually found in rivers with moderate current, as well as lakes and tidal marshes.
Common snappers are noted for their belligerent disposition when out of the water, they have powerful beak-like jaws and a highly mobile head and neck. In some areas they are heavily hunted for their meat, a popular ingredient in turtle soup.
THESE TURTLES ARE NOT ENDANGERED, ACCORDING TO THE U.S. FISH AND WILDLIFE SERVICE!

We Only Ship Within the US

This website offers numerous wholesale priced products, but wholesale pricing is not available on all products. Our Wholesale Website is: www.atlanticcoral.com