Zebra Skin Rug, Real Zebra Hide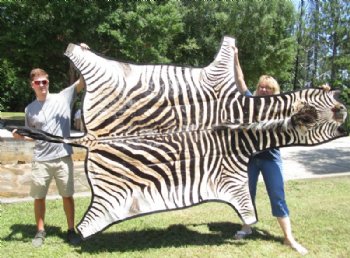 We are importers from South Africa of Authentic Zebra Skin Rugs, Real Zebra Hide Rug, (Equus burchelli) with black felt backing. Choose from our large inventory of zebra skin rugs and zebra hides with either black stripes or dark brown stripes against tan or cream colored fur. We carry Grades A, B and C. Each individual Zebra has unique markings and act in a similar fashion to fingerprints in humans. The southern Burchell's Zebra has distinctive shadow brown stripes in the white stripes.
Shop Here and Save! We Are Importers of Real Zebra Skin Rugs from South Africa -- NO MIDDLEMAN!!

Animal Skins and Hides Cannot Be Exported.



No products have been assigned to this category.

Back