Abalone Shells Polished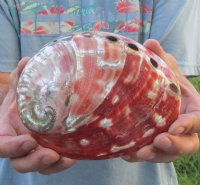 We have a wide selection of Polished Abalone Shells for Sale in sizes 4 inches up to 8 inches. Our Polished Green Abalone,
Haliotis fulgens,
have had the outer layer of the shell removed revealing a beautiful irridescent exterior with tones of blues, greens, silver and mother of pearl, with the interior reflecting similar colors. The Polished Red Abalone's,
Haliotis rufescens
, outer layer has also been removed revealing a beautiful red and mother of pearl exterior with the interior having a rainbow of blues, greens, silver and mother of pearl.
Make your seashell a showpiece and protect your furniture from being scratched by adding a display stand. Available in our category
Acrylic and Wooden Display Stands
Priority Mail (2 day shipping) is CHEAPER, most of the time for packages weighing UNDER 3 lbs. Check rates for both UPS and USPS!