Abalone Shells Polished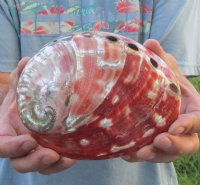 We have a wide selection of Polished Abalone Shells for Sale in sizes 4 inches up to 8 inches. Our Polished Green Abalone,
Haliotis fulgens,
have had the outer layer of the shell removed revealing a beautiful irridescent exterior with tones of blues, greens, silver and mother of pearl, with the interior reflecting similar colors. The Polished Red Abalone's,
Haliotis rufescens
, outer layer has also been removed revealing a beautiful red and mother of pearl exterior with the interior having a rainbow of blues, greens, silver and mother of pearl.
Our Shells are real -

NOT

replicas
. These beautiful shells will have natural imperfections from living in the ocean and aging. You are buying the shells pictured.
We offer hand picked nice quality polished abalone shells, so you can see the exact shell you are buying. Review all photos carefully.
These Shells Cannot Be Exported.