Display Stands for Shells, Rocks, Minerals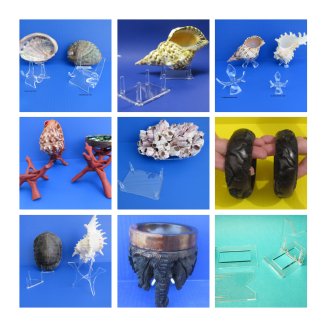 We carry all kinds of rock display stands and seashell display stands including Wooden Cobra Tripod Stands from tiny 2 inch cobra stands up to 10 inches large cobra tripod stands, wood bangle style ostrich egg stands, small 2 inches to large 5 inches plastic easel display stands for agate slices, decorative plates, abalone, sand dollars and other semi flat items, small and medium acrylic egg stands or glass paperweight stands, We also carry 4 leg plastic stands from 3 inches small 4 leg acrylic stands to extra large 6 inches 4 leg acrylic display stands. Our stands are great for displaying seashells, decorative eggs, decorative bowls, geodes, agate, amethyst, quartz, glass paperweights and more. Our display stands will not only show off your treasures but will also protect your furniture.
We Only Ship Within the US - Our Products Cannot Be Exported.