Alligator Skulls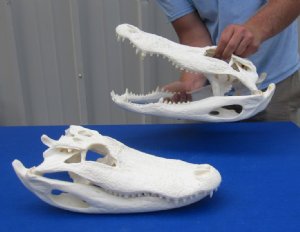 You can purchase One or Wholesale lots of Real Alligator Skulls measuring 9 inches from small 6 foot gators, up to 23 inches skulls from huge 12 foot gators. We carry real alligator skulls from Florida gators. The Florida alligator skulls have been cleaned, whitened and have all their original teeth. We also carry number two grade, discounted skulls for the bargain hunters, all with some type of damage or are badly discolored.
Alligator Skulls Cannot Be Exported.

We Ship Priority Mail (2 -3 day shipping) (
NOT UPS
) for Orders weighing UNDER 3 lbs.