Black Wildebeest Hide, Skin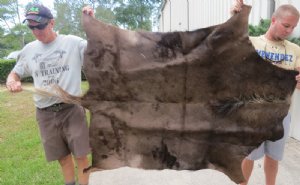 Soft Tanned Black Wildebeest Hides for Sale. Our black wildebeest skins are beautiful
and would look stunning as an accent rug, couch throw or wall hanging. These are real skins from wild animals and they will have small imperfections including repair stitching, tiny holes, scratches and patches of sparse fur. Please review each photo carefully. You are buying the hide pictured.
Shop Here and Save! We Are Importers of Black Wildebeest Hides from South Africa -- NO MIDDLEMAN!!

We Only Ship Within the US - Animal Skins and Hides Cannot Be Exported.