Blesbok Horns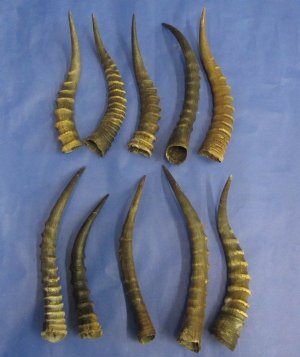 Our blesbok horns,
Damaliscus dorcas phillipsi,
are sold in lots of 2, 5 and 10 pieces. We also have matching pairs. The horns range in size from 10 inches up to around 16 inches, are curved and have prominent ridges. They are measured around the curve of the horn, using a cloth tape measure - not straight with a wood ruler. They are ready for use in taxidermy crafts.
Shop Here and Save!! All our blesbok horns are priced way below retail. We are importers of animal horns from Africa. -- NO MIDDLEMAN!!

We Only Ship Within the US - Animal Horns Cannot Be Exported.