Blesbok Skulls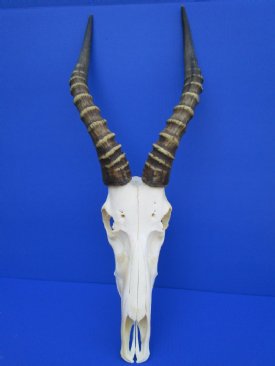 Real Blesbok Skulls Wholesale or individual skulls hand picked and photographed allowing you to buy the exact blesbok skull you want. Our blesbok skulls,
Damaliscus Dorcas phillipsi
.
have horns ranging from 12 inches up to 16 inches in size. We import from South Africa, full female and male blesbok skulls and also blesbok skull plates. The horns are measured around the curve using a cloth tape measure. All of our Blesbuck skulls are cleaned and ready for display or mounting on a wall plaque, as a European Mount. We remove the horns for shipping. They are easy to re-attach. For those on a budget, we have #2 grade cheap Blesbok Skulls, all with slight damage.
We Only Ship Within the US

This website offers numerous wholesale priced products, but wholesale pricing is not available on all products. Our Wholesale Website is: www.atlanticcoral.com