Blue Wildebeest Hides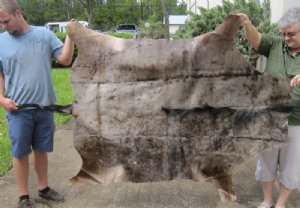 African Blue Wildebeest Hides,
connochaetes taurinus.
Blue Wildebeest hides have hues from deep slate or bluish gray to light gray or even grayish brown. They make attractive living room accent rugs or can be thrown over a couch or hung on a wall. Our hides are real and will have natural imperfections from the animal living in the wild such as scratches, tiny bug bites, areas of thinning hair and repair stitching. There will be patches on the backs where repairs have been made. These are very nice skins. Please review all photos.
We Are Importers of Soft Tanned Blue Wildebeest Hides from South Africa -- NO MIDDLEMAN!!