Blue Wildebeest Skulls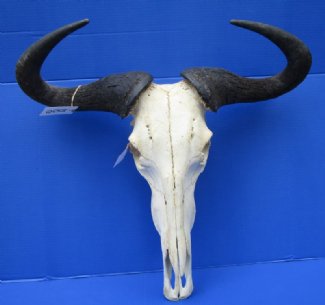 African blue wildebeest skulls for sale,
Connochaetes taurinus,
with horns measuring from 18 inches wide up to about 25 inches wide. All have been hand picked and photographed so you can buy the exact skull you want. The blue wildebeest is also referred to as the common wildebeest or white-bearded wildebeest. It got its name from the silvery-blue sheen of its coat. All of our skulls and horns have been cleaned in South Africa and are ready for display. We also carry cheap blue wildebeest horns on skull plates and #2 grade discounted skulls with slight damage for the budget-conscious shoppers.
We Only Ship Within the US



This website offers numerous wholesale priced products, but wholesale pricing is not available on all products. Our Wholesale Website is: www.atlanticcoral.com