Bobcat Skulls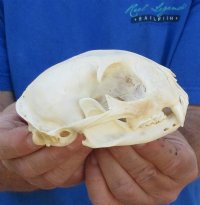 North American Bobcat Skulls for sale, hand picked and photographed allowing you to buy the Bobcat Skull,
Lynx rufus
you see
.
These skulls range in size from 4 inches up to 5-1/2 inches. These skulls were sourced from licensed trappers and have been cleaned and are ready for display. Their jaws have been glued shut with hot melt glue. Bobcats are also called wildcats and when fully grown can range in size from 26 inches up to 41 inches long and weigh between 16 and 30 pounds. They will hunt animals ranging in size from a tiny mouse to a deer. Rabbits and hares make up a large part of their diet.
These skulls can only be shipped within the United States. Cannot be exported.