Caracal Cat Skulls, African Caracal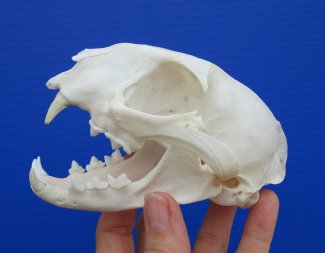 Real African Caracal Cat Skulls for Sale, Afrian Lynx, Caracal Lynx (

Caracal caracal

) measuring between 4-1/2 and 5-3/4 inches, all cleaned and ready for display imported from South Africa. We stock first quality skulls and discount cheap caracal cat skulls with slight damage. The skull of the caracal is high and rounded, featuring large auditory bullae
, a well-developed supraoccipital crest
normal to the sagittal crest
, and a strong lower jaw. The caracal has a total of 30 teeth.The caracal's common names are African Caracal, African Lynx and Caracal Lynx.
The caracal is a medium-sized wild cat native to Africa, the Middle East, Central Asia, and India. It is characterized by a robust build, long legs, a short face, long tufted ears, and long canine teeth. Its coat is uniformly reddish tan or sandy, while the ventral parts are lighter with small reddish markings.

Priority Mail (2 -3 day shipping) is CHEAPER, for Eastern and Central U.S. for packages weighing UNDER 3 lbs. Check rates for both UPS and USPS!
Can Only Be Shipped Within the US