Conch Shells - Spider Conchs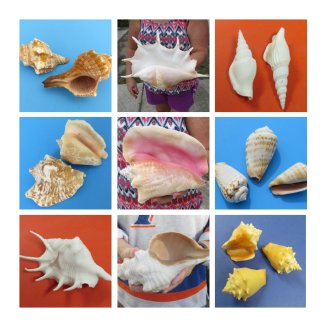 Beach tourists are always looking for conch shells for sale. Conch shells is a common phrase applied to a number of different medium to large sized shells. The large queen conch, is the shell many people think of as the iconic seashell. The horse conch has been Florida's official state shell since 1969 and can grow to around 24 inches in length and the Giant Spider Conch, a large decorative seashell, can reach a length of almost 16 inches and is the largest and heaviest of the spider conchs. The small conch shells for sale are used for shell crafts and are usually sold in bulk; namely fighting conchs, silver lip conch, canarium conch, strombus luanus conchs, vole conchs, spider conchs, lambis scorpion, lambis lambis, lambis chiragra, brown chulla conch, and others . Strombidae can be found in the Indo-Pacific region, the Caribbean region and in the Atlantic Oceans and West Indies.


Shop Here and Save! All Our Conch Shells Are Priced Way Below Retail! No Minimum Order!