Feet, Heads, Claws, Tails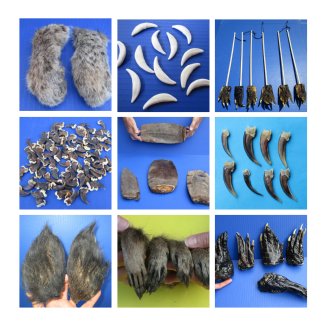 Shop our wide selection of Preserved Animal Feet Wholesale and in small lots and, Preserved Iguana Heads, Preserved Squirrel Heads, Preserved Beaver Tails, Animal Claws Bulk and in small quantities. You can also purchase preserved green iguana heads, preserved squirrel heads, wild boar ears, and coyote fangs wholesale and in small lots for taxidermy art and crafts. Buy our preserved 3 to 5 inches small to large 10 inches large alligator feet and gator foot necklaces, backscratchers and keychains. For taxidermy crafts, shop our cured deer feet, bobcat feet, raccoon feet, beaver, coyote, red fox, muskrat, opossum and rabbit feet. Plus we sell a cured turkey foot. For making animal claw earring, necklaces or for art, buy our badger claws, bobcat claws, beaver, coyote, raccoon and red fox claws. All are sold in small quantities and in wholesale bulk lots.
This website offers numerous wholesale priced products, but wholesale pricing is not available on all products. Our Wholesale Website is: www.atlanticcoral.com
Browse these categories under "Feet, Heads, Claws, Tails"