Frog Shells Bulk and Individually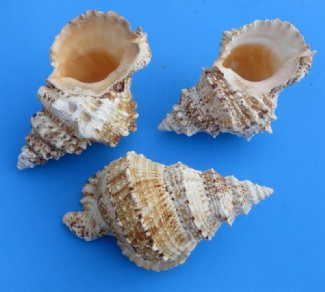 Frog Shells Wholesale in Bulk,

bursa rana

, for re-sale in coastal gift shops and small lots for crafters and individual frog shells for decorators and shell collections are available in sizes from 4 inches up to 10 inches.,The common name the "giant frog snail" or "giant frog shell", is a species of extremely large sea snail with a knobby exterior. The mouth area can range in color from off white to bright orange. These shells are a marine gastropod mollusk in the family Bursidae, the frog shells.
We only carry
Real
frog shells, all natural, beautiful and imperfect. They will have imperfections from living in the oceans and aging.
Make your seashell a showpiece and protect your furniture from being scratched by adding a display stand. Available in our category
Acrylic and Wooden Display Stands
Products weighing under 3 pounds are shipped Priority Mail, (2-3 day shipping).