King Helmet Shells-Hand Selected and Small Lots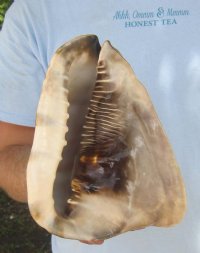 King Helmet Shells for Sale, Cassis tuberosa, a shiny rich brown colored seashell with a triangle shape. These beautiful king helmet shells measure between 6 inches and 8 inches and are used in coastal home decorating and are prized by shell collectors everywhere. We offer hand selected and photographed king helmet shells so you can choose the shell you want. The shell of this species has been used for creating cameos and can be found in the Western Atlantic Ocean and in the eastern Atlantic Ocean at the Cape Verde Islands.
Make your seashell a showpiece and protect your furniture from being scratched by adding a display stand. Available in our category
Acrylic and Wooden Display Stands
We Only Ship Within the US - Our Products Cannot Be Exported.

Products weighing under 3 pounds are shipped Priority Mail, (2-3 day shipping).