Knife Handle Scales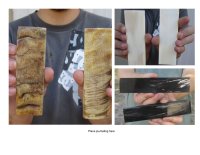 Maybe you are a hunter, knife collector, woodworker, or just someone who sees the beauty in ornate and decorative knife handles. Customize any of your knives with our wide array of knife handle materials. If you are looking for horn knife handle scales, you can choose from our Buffalo horn or sheep horn knife scales. We also offer a variety of bone knife scales, such as buffalo bone, that would be perfect for your next project. If you are looking for something more ornate, we also offer Hippo and Warthog Ivory for carving which would make a stunning knife handle. Find what you are looking for today to create a truly one of a kind knife handle for your collection.

We Only Ship Within the US

This website offers numerous wholesale priced products, but wholesale pricing is not available on all products. Our Wholesale Website is: www.atlanticcoral.com
Browse these categories under "Knife Handle Scales"