Melon Shells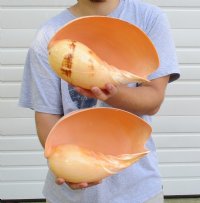 View our selection of medium to large melon shells sold wholesale and individually for collectors and decorators. We also offer hand selected melon shells where you buy the one in the photo. These beautiful orange colored

Melo aethiopica

, commonly called crown baler melon sea shells are very large sea snails with a wide mouth opening. We also carry the

Melo Melo

, commonly called the Indian Volute Shells or Bailer Shells, a shell with rounded shoulders and no spines. We stock sizes from 5 inches up to 10 inches. Because of their huge mouth opening these snails are often known as "bailers" as during ancient times they were sometimes used for bailing out canoes. They got their name "melons" because of their resemblance to that fruit. Nowadays, they are used in seashell decor as accent pieces or used by florists to make flower arrangements and seashell centerpieces for weddings, beach parties and convention tables. Our crowned baler melon shells range in size from 5 inches up to 11 inches.
Make your seashell a showpiece and protect your furniture from being scratched by adding a display stand. Available in our category
Acrylic and Wooden Display Stands
We Only Ship Within the US



This website offers numerous items wholesale, but wholesale pricing is not available for all items. Our Wholesale Website is: www.atlanticcoral.com