Pink Conch Shells Bulk and Hand Selected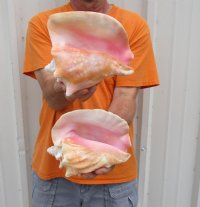 Ours Queen Conch Shells are sold by the wholesale case for crafters and re-sale Decorators and collectors may want to choose one of our beautiful hand selected pink conch shells allowing you to see exactly what you will be buying. Our Pink Conch shells will range in size from 6 inches up to 9 inches. Queen conch shells,
Strombus gigas
, also referred to as pink conchs because of their glossy pink or orange colored interiors. The lips of our conchs have been machine edged and the backs have a slit. Queen conch meat is consumed domestically throughout the Caribbean and in the United States. The slits are made in order to quickly remove the conch meat.
Make your seashell a showpiece and protect your furniture from being scratched by adding a display stand. Available in our category
Acrylic and Wooden Display Stands
We Only Ship Within the US - Our Products Cannot Be Exported.