Raccoon Skulls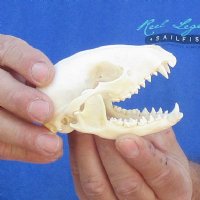 Real Raccoon Skulls for sale sourced from North American licensed trappers, cleaned and ready for display. The raccoon,
Procyon lotor
, sometimes spelled racoon, is also known as the common raccoon or North American raccoon, We carry cleaned and whitened raccoon skulls 4-1/2 inches up to 5 inches in size. In addition to our First Quality Skulls, we carry Damaged and Discounted Raccoon Skulls for the bargain hunters.
We Only Ship Within the US - Animal Skulls Cannot Be Exported.