Ramose Murex Bulk and Hand Selected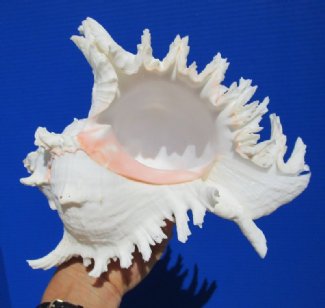 Beautiful Giant Murex Shells, Murex Ramosus Wholesale in bulk and hand selected allowing you to buy what you see. We stock

Chicoreus ramosus

, also called Branched Murex shells or Ramose Murex in sizes 6 inches, 7 inches, 8 inches and 9 inches. The giant murex are white frilly shells with brown markings prized by shell collectors everywhere. For shell collectors and decorators, we offer hand selected large ramose murex where you buy the shell in the photo. No surprises. Ramose Murex
is a species of predatory sea snail, found in the Indo-West Pacific. Our shells are 100% real and beautiful; however, they are NOT perfect. They will have natural imperfections from living in the oceans and aging. We offer hand picked and photographed murex shells, that allows you to see exactly what you are buying. We also carry "generic" murex shells, at a much lower price, where
we
select a shell for you out of our large inventory of murex.
Make your seashell a showpiece and protect your furniture from being scratched by adding a display stand. Available in our category
Acrylic and Wooden Display Stands
We Only Ship Within the US - Our Products Cannot Be Exported.

Products weighing under 3 pounds are shipped Priority Mail, (2-3 day shipping).