Spiny Oyster Shells - Thorny Oysters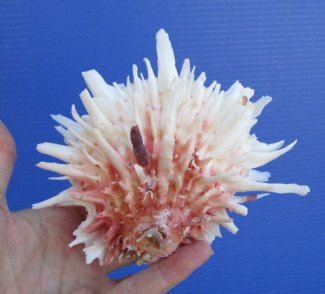 We carry a selection of beautiful Spiny Oyster Shells also called Thorny Oysters with wide sharp spines covering their entire surface. We offer Spiny Oyster Shells Wholesale and also offer hand selected thorny oysters allowing you to buy what you see. Choose from the exquisite spondylus leucacanthus, or beautiful spondylus princeps , a hinged oyster seashell that attaches itself to rocks. We carry sizes 4 inches up to 6 inches. Spondylus, otherwise known as the "thorny oyster" or "spiny oyster", is a bivalve mollusk found in the warm waters of most of the oceans of the world. The Spondylus
genus has about 76 species living worldwide.
Spiny Oysters are found attached to rocky reefs at depths between 35 and 300 feet. They range from Cedros Island, Baja California to Ecuador and in the Sea of Cortez from Bahia de Los Angeles, Baja California to Cabo San Lucas, Baja California Sur.
Can Only Be Shipped Within the US
Products weighing under 3 pounds are shipped Priority Mail, (2-3 day shipping).