Springbok Skins, Springbok Hides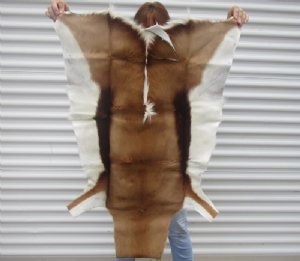 Add a touch of the wild to your home with our Soft Tanned Real Springbok Skins, Hides sold Wholesale and Individually. These beautiful African Springbok Hides have a cinnamon colored upper body, white belly and a broad dark brown stripe on either flank stretching from the front legs to the rear legs. The rump is marked by a triangular-shaped white patch, framed by a dark brown stripe. We sell individual Springbok Skins, Springbok Hide and Wholesale Springbok Skins and Hides in Bulk. Our individual Springbok Skins are Hand Picked where you buy what you see in the photo. The average skin measures approximately 34 inches by 28 inches. They are perfect for furniture throws, animal skin wall decor and are also used for making springbok pillows, purses and animal fur craft items. These skins are real - not imitation.

Shop Here and Save! We Are Importers of Springbok Skins and Hides from South Africa -- NO MIDDLEMAN!!

We Ship Priority Mail (2 -3 day shipping) (NOT UPS) for Eastern and Central U.S. for packages weighing UNDER 3 lbs.

We Only Ship Within the US