Thin Porcupine Quills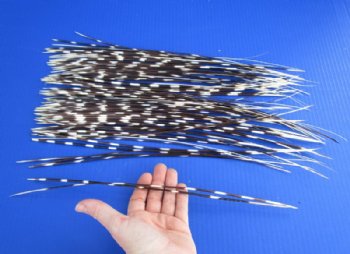 Wholesale Thin African Porcupine Quills for Sale sold in small discount bundles and large wholesale bundles, imported from South Africa. Our African Porcupine Quills are black and white in color and available in bundles of 50 up to 200 pieces. We carry thin quills in sizes: 6 to 7-7/8 inches; 8 to 9-7/8 inches; 9 to 16 inches; 10 to 11-7/8 inches, 12 to 13-7/8 inches, 14 to 15-7/8 inches, 15 to 18 inches and 18 inches and up. These are bulk bundles and may contain a few quills that are above or below the size ordered. Also the thickness of the thin quills will vary from quill to quill. Some are thinner than others. These were sourced from the African Government's culling programs.
These are real porcupine quills. The quills are

VERY SHARP!!!
We Only Ship Within the US

This website offers numerous wholesale priced products, but wholesale pricing is not available on all products. Our Wholesale Website is: www.atlanticcoral.com