Triton Trumpet Seashells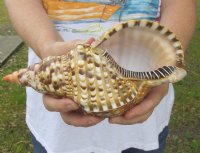 Atlantic Triton's Trumpet Shells for Sale,

Charonia variegata

, is a species of predatory sea snail that eats smaller pray whole and spits out the shells and spikes later. The common name "Triton's Trumpet" is derived from the Greek god Triton. We carry small tritons from 6 inchesup to large tritons 10 inches in size. This large decorative seashell is creamy white in color with brown or yellow markings. The mouth has a dark thin inner lip with regularly spaced rich brown ridges. The outer lip is scalloped with about 10 pairs of rib like teeth. The mouth can be orange, pink to off white in color. We have a selection of hand picked beautiful triton's trumpet shells offered for sale to people who would like to see exactly what they are buying. All of our shells are

real

-
not replicas
. They will have natural imperfections from aging and living in the oceans.

Make your seashell a showpiece and protect your furniture from being scratched by adding a display stand. Available in our category
Acrylic and Wooden Display Stands
Priority Mail (2 day shipping) is CHEAPER, most of the time for packages weighing UNDER 3 lbs. Check rates for both UPS and USPS!