Warthog Skulls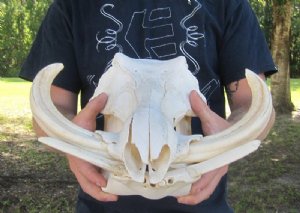 Small to Extra Large Warthog Skulls with Tusks, an animal with wart like bumps on its face - thus the name "warthog". We are importers of 9 inches small warthog skulls up to 16 inches extra large warthog skulls. We sell first quality skulls and cheap skulls at discount prices, with slight damage. We have hand selected and photographed each one so you can see exactly what you are buying. Warthogs got their names from the bumps on their faces that look like warts. They also each have four tusks, two on each side of their snouts. The upper tusks are longer and curve toward each other. Warthogs are pigs that live in Africa south of the Sahara. All of our warthog skulls were imported from South African and have cleared the U.S. Fish and Wildlife Department and U.S. Customs for legal entry into the United States.
Shop Here and Save!! We Are Direct Importers of African Warthog Skulls -- NO MIDDLEMAN!!

We Only Ship Within the US - Animal Skulls Cannot Be Exported.