West Indian Chank Shells - Turbinella angulata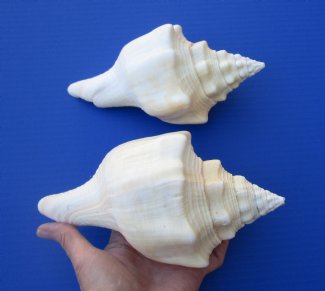 We stock 7 to 9 inches West Indian Chank Shells Wholesale and individually. Also available are hand picked chank shells allowing you to buy the one pictured. Turbinella angulata, common name the West Indian chank shell or Lamp Shell, is a species of very large tropical sea snail with a gill and an operculum, in the family Turbinellidae. These large reef-associated gastropods can be found in tropical environment on subtidal and offshore mud, on rock or sand beds, and on mangrove lagoons, at depths of 0 to 45 meters. The shells of Turbinella angulata can reach a size of 5 to 19.5 inches. These large shells are heavy with a sculpture of 8 to 10 prominent ribs angled at shoulder. The basic color of the external shell surface is white, while the inner are may be pink or orange. The name "chank" for the shell of this species is derived from the word shankha, the divine conch or sacred conch, Turbinella pyrum, a closely related species from the Indian Ocean.

Products weighing under 3 pounds are shipped Priority Mail, (2-3 day shipping).