White Kudu Horns, Kudu Horn Inner Bone Core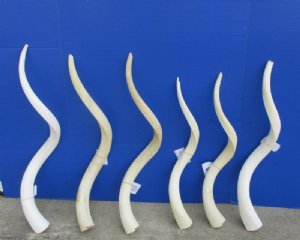 Polished White Kudu Horn Inner Bone Core and unpolished kudu horn inner bone cores ranging in size from 26 inches up to 45 inches, measured around the curve. The unpolished and polished white inner bone of the kudu horn is used for making candle holders, lamps, and mounted on bases or stands as a decorative accent piece. These have been cleared for legal entry into the US by the US Fish and Wildlife Department and US Customs.
NO International Shipping.


We can ship 2 horns for the same cost as shipping 1 horn. UPS bills by dimensional weight. The box used is 31x8x7 equal to 13 pounds. 2 or 3 horns can fit into this box. We will refund any excess shipping you were charged on the website,

if you buy more than 1 horn.