Wholesale Hides, Skins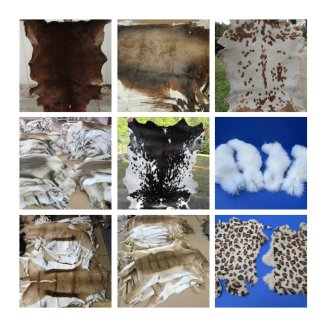 Our Animal Hides, Skins Furs are imported from South Africa, Finland and India. We have a wide selection of wholesale animal hides and skins. They are used by manufacturers, home decorators and in arts and crafts. The soft tanned hides and skins of springbok, impala, reindeer, and rabbit are used to make seat covers, furniture throws, accent rugs, purses, photo frames, and in numerous other crafts. The large hides of kudu, wildebeest, zebra, blesbok are used as furniture throws and accent rugs. We carry a large assortment of tanned African animal hides and soft tanned Finland reindeer hides along with fur keychains, animal face pelts and dyed animal furs. Choose from:

wholesale reindeer hides
wholesale springbok skins
wholesale goat hides
wholesale blesbok hides
wholesale wildebeest hides
wholesale impala hides
wholesale rabbit pelts, furs
wholesale printed rabbit pelts
wholesale white rabbit pelts,
wholesale tanned buffalo scrotums

wholesale raccoon tail keychains
wholesale fox tail key chains
wholesale lynx tail keychains
wholesale rabbit's foot keychains
wholesale coyote face pelts
wholesale fox face pelts
wholesale kudu hides
wholesale coyote tails
wholesale raccoon tails
wholesale silver fox tails
Whether you are looking for a plush reindeer hide or a tanned buffalo scrotum for a gag gift, you will find it here.