Carved Warthog Tusks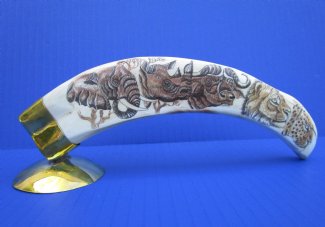 Carved warthog tusks and scrimshaw warthog tusks for sale (
Phacochoerus aethiopicus)
measuring 8 to 10 inches long, measured around the curve of the tusk. Our carved warthog tusks are attached to a brass stand and were imported from South Africa. They are carved with the African Big 5 animals, elephant, cape buffalo, lion, leopard and rhino. Our scrimshaw warthog tusks are also imported from South Africa and the scrimshaw art is of the African Big 5 animals. All of our warthog tusks are real - not replicas. They were done by African scrimshaw artists and carvers.
Can Only Be Shipped Within the US

This website offers numerous items wholesale, but wholesale pricing is not available for all items. Our Wholesale Website is: www.atlanticcoral.com
.