Cowrie, Cowry Shells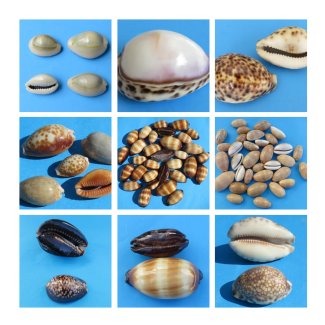 Check out our large selection of shiny cowrie shells sold wholesale and in small quantities for crafters from tiny cut cowrie shells for jewelry making and shell art, to large cowrie shells for seashell decor and shell collecting including money cowries, tiger cowries, serpent's head cowry, ring top cowries, Arabian, day-break cowries, humpback, deer cowries, harlequin cowry, isbella, tiny honey cowries and many more. The popular Cowrie Shells, or cowry, has many uses dating back to 1,200 BC and has shown up in the form of money, jewelry and religious accessories. Throughout Africa, South and North America, the cowrie symbolized the power of destiny and prosperity.
Shop Here and Save!! We Sell Cowrie Shells in Bulk at Prices Way Below Retail. No Minimum Order!

Can Only Be Shipped Within the US


This website offers numerous items wholesale, but wholesale pricing is not available for all items. Our Wholesale Website is: www.atlanticcoral.com