Hippo Ivory, Hippo Tusks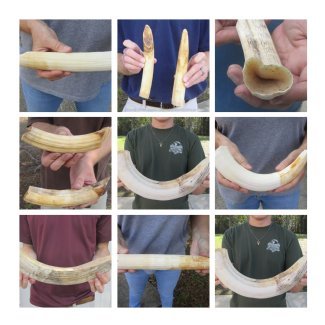 We sell legal hippo ivory for carving, or hippo tusks from 4 inches small hippo tusks to massive 29 inches hippo tusks, imported from South African under a CITES Permit. Our hippopotamus ivory tusks are available in curved, semi-curved, straight and semi-straight with ivory anywhere from 20 percent to 100 percent solid.
Ivory
is a hard, white material from the tusks and teeth of animals. Ivory has been valued since ancient times in art or manufacturing for making a range of items from ivory carvings to false teeth, piano keys, fans and dominoes. Ivory from hippopotamus and warthog are used in carving and the art of scrimshaw.
This may be our last shipment of hippo tusks. This shipment was legally imported under a CITES Permit and has cleared US Fish and Wildlife and US Customs for legal entry into the US. We will continue to list our stock on our websites until it is gone. YOU NEED TO CHECK WITH YOUR STATE AGENCIES TO MAKE SURE YOU ARE ALLOWED TO POSSESS THIS PRODUCT IN YOUR STATE. Every State in the US has different regulations.


Hippo Tusks Can Only Be Shipped Within the US