Horse Conch Shells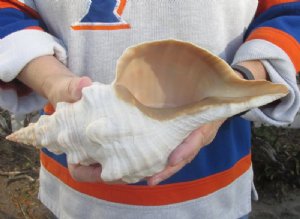 Hand picked and photographed Horse conch for sale Triplofusus giganteus, common name the Florida horse conch. The size range from 11 inch to 12 inch in size. These beautiful large seashells are used in coastal home decorating and seashell decor. The horse conch is the official state seashell of Florida. All of our horse conchs are
real,
beautiful and imperfect. They will have natural imperfections from living in the ocean and aging.
Make your seashell a showpiece and protect your furniture from being scratched by adding a display stand. Available in our category
Acrylic and Wooden Display Stands
We Only Ship Within the US - Our Products Cannot Be Exported.
SKU: 2710-6(SIMILAR)
Price: $4.50
List Price: $6.00
You Save: $1.50 (25%)
More Details