Lion's Paw Scallops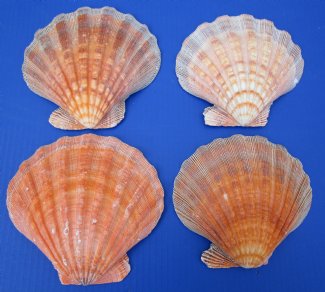 For baking, decorating and smudging, you will find the Brown and Orange Lion's Paw Scallop Shells Wholesale in bulk and we also sell them in hand selected small lots. Orange lion's paws are a bright colored and large size seashell for many uses. We carry a selection of both brown lion's paws and orange lion's paws in sizes 5 inches and 6 inches. The Orange Lion's Paw Shell makes an attractive focal point on a shelf because of its bright orange color and large size.
Nodipecten subnodosus
is a species of thick large orange scallop shells with large ridges covering the surface of the shell. It is named after its resemblance to the paw of a lion. Lion's paws are found in the Pacific Ocean and Gulf of California, the Baja California Peninsula, Mexico and southward to the western coast of Peru.
Our shells are Real -
NOT
Replicas
. They will have natural imperfections.
We Only Ship Within the US


This website offers numerous items wholesale, but wholesale pricing is not available for all items. Our Wholesale Website is: www.atlanticcoral.com
SKU: 2712-5BROWN
Price: $6.60
More Details
SKU: 2712-5BROWNPBCASE
Price: $90.75
More Details