Opossum Skulls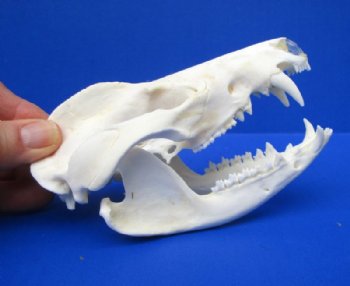 North American Opossum skulls for sale Wholesale and Individually,
Didelphimorphia
, also called possums in the Southern United States. Our skulls have been cleaned and are ready for display and measure between 3-3/4 inches and 5 inches in size. For the bargain skull shopper, we carry number 2 grade skulls, with slight damage, at low discount prices. We have hand picked and photographed a number of skulls so you can see the exact skull you are buying.
The Opossum is a marsupial and the only animal in North America that has a pouch which it uses to carry its young around. A female opossum gives birth to around 20 babies; however, only about half of them survive. Opossum have a white face and pointy rat-like nose and tail.
Their diet consists of dead animals, rodents, birds, eggs, fruits and plants.


We Only Ship Within the US

This website offers numerous wholesale priced products, but wholesale pricing is not available on all products. Our Wholesale Website is: www.atlanticcoral.com