Pink Conch, Queen Conch Shells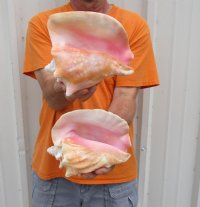 Queen conch shells,
Strombus gigas
, also referred to as pink conchs because of their glossy pink or orange colored interiors. Ours range in size from 7 inches up to 10 inches. The lips of our conchs have been machine edged and the backs have a slit. Queen conch meat is consumed domestically throughout the Caribbean and in the United States.
Can only be shipped within the United States.



WE WILL NO LONGER BE SELLING THE QUEEN CONCH SHELLS.
, We do have beautiful Giant Spider Shells, hand picked where you buy what you see under the category:
Spider Conch Shells
>
No products have been assigned to this category.

Back