Pink Conch, Queen Conch Shells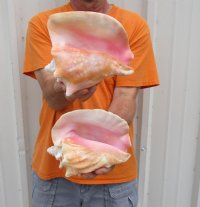 Queen conch shells,
Strombus gigas
, also referred to as pink conchs because of their glossy pink or orange colored interiors. Ours range in size from 7 inches up to 10 inches. The lips of our conchs have been machine edged and the backs have a slit. Queen conch meat is consumed domestically throughout the Caribbean and in the United States.
Make your seashell a showpiece and protect your furniture from being scratched by adding a display stand. Available in our category
Acrylic and Wooden Display Stands
We Only Ship Within the US - Our Products Cannot Be Exported.