Queen Helmet Shells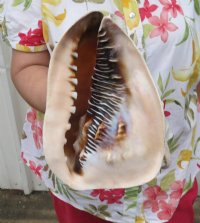 Queen Helmet Shells,
Cassis madagascariensis
, are beautiful peach colored large seashells with deep brown ridges surrounding the mouth of the shell. The face of the shell is shiny and triangular and belongs to the family of helmets and bonnet shells. It is mainly found in the tropical waters of the Western Atlantic, the Gulf of Mexico and the Caribbean Sea. We are selling sizes from 6 inches up to 8 inches in height. These are all real helmet shells - not replicas. All of our shells are beautiful commercial grade - not specimen grade. They will have natural imperfections from living in the oceans and aging.
Make your seashell a showpiece and protect your furniture from being scratched by adding a display stand. Available in our category
Acrylic and Wooden Display Stands
We Only Ship Within the US

This website offers numerous wholesale priced products, but wholesale pricing is not available on all products. Our Wholesale Website is: www.atlanticcoral.com