Sea Urchin Shells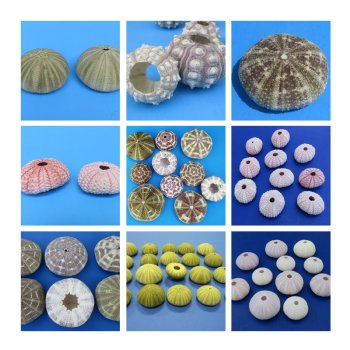 We have a wide selection of sea urchin shells sold in packs of 10 and wholesale cases. Our pink sea urchin shells are 1-1/4 inch to 1-1-3/4 inches in size; the purple sea urchin shells are 1-1/2 to 2-1/8 inches. Also for displaying air plants we have the sputnik sea urchins for sale which look like little land mines because of all the nodules that cover its body. For all the shell craft people, we carry the colorful alfonso sea urchin shells that can vary from deep greens to purple and come in a variety of interesting patterns.. They are sold in a pack of mixed sizes of 2-1/2 inches to 3-7/8 inches. Most of these are sold in packs of 10 and the wholesale cases, with a significant discount, can have up to 1000 urchins.
We Only Ship Within the US

We Have Three 40 foot Containers On the Water Filled with Seashells, Jewelry, Starfish, Sea Urchins, Shell Chimes, Shell Novelties. Upon Arrival We Will Be Marking Hundreds of Items Back in Stock.