Taxidermy Piranha Fish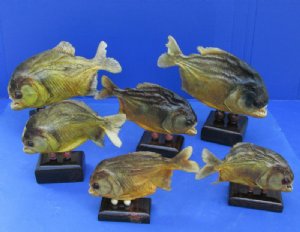 Are you an avid fisherman and collector of Taxidermy Fish? Add one of our Real Taxidermy Piranha Fish with razor sharp teeth, or Sun Dried Piranha Fish mounted on a wooden base, available in sizes from 7 inches up to 10 inches to your taxidermy fish collection or display one on your den or lodge shelf or desk. Our Taxidermy Piranha Fish,

Serralmus pygoentrus

, were sun dried, sealed with a clear sealant, and mounted on a wooden base for easy display. Piranha is a freshwater fish that lives in the rivers in South America. They are known for the razor sharp teeth and a reputation for feeding frenzies. These mounted piranha fish have imported from South America and cleared for legal entry into the United States.
These piranha are not endangered or protected.
We Only Ship Within the US