Common Shark Jaws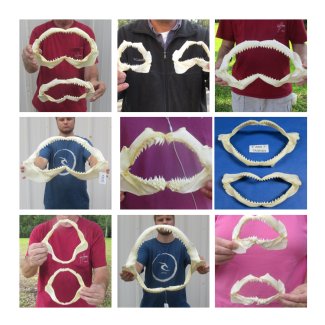 We have a large selection of shark jaws for sale sourced from the Taiwan and Indian fishing industries. All were harvested for food. The species include snaggle tooth sharks from 4 inches up to 7 inches, dusky jaws from 13 up to 21 inches, spinner shark jaws, pigeye jaws 11 to 16 inches, pelagic thresher jaws, bull shark jaws, smooth hammerhead jaws and others. All of these have been cleaned and whitened.
Shop Here and Save!! We Are Importers of Shark Jaws from the Taiwan and Indian Fishing Industries --- NO MIDDLEMAN!!

Priority Mail (2 -3 day shipping) is CHEAPER, for Eastern and Central U.S. for packages weighing UNDER 3 lbs. Check rates for both UPS and USPS!
Can Only Be Shipped Within the US