Animal Skulls from Africa and US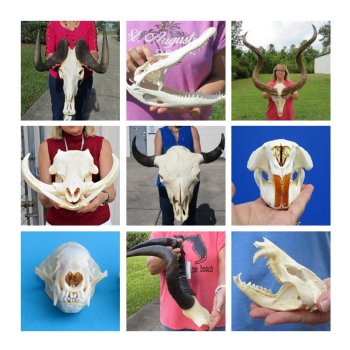 We stock the largest selection of ethically sourced real animal skulls for sale sold wholesale and individually for skull collectors, teachers, skull painters and skull carvers imported from South Africa and India. We also have a wide selection of US animal skulls for sale wholesale and individually, sourced from licensed trappers. If you want to truly create unique décor pieces, then one of our many ethically sourced animal skulls for sale can set you on the right path. With a plethora of different species of animal skulls for sale to choose from, in sizes from tiny 2 inches bat skulls up to 27 inches giraffe skulls, you will be able to find exactly what you are looking for. Choose from:

alligator skull
springbok skulls
impala skulls
gemsbok skull
buffalo skulls
blesbok skull
warthog skulls
red hartebeest skulls
wildebeest skulls
wild boar skull
giraffe skulls

kudu skulls
oryx skulls
beaver skulls
raccoon skulls
bobcat skulls
bat skulls
deer skulls
coyote skulls
pheasant skulls
skunk skulls
mink skulls

rabbit skulls
badger skulls
fox skulls
opossum skulls
otter skulls
waterbuck skulls
zebra skulls
monkey skulls
genet skulls
hyrax skulls
mongoose skulls


And so many more! Animal Skulls are perfect for creating a rustic feel to a hunting lodge or log cabin.
All animal skulls have been ethically harvested and have been deemed legal for sale by the U.S. Fish and Wildlife Services and U.S. Customs.

Shop Here and Save!! We are importers of African Animal Skulls and Camel Skulls from India. NO MIDDLEMAN.

We Only Ship Within the US - Animal Skulls Cannot Be Exported.

We Ship Priority Mail (2 day shipping) for Eastern and Central US for Packages Weighing 3 Pounds and Under.
Browse these categories under "Animal Skulls from Africa and US"