Animal Skulls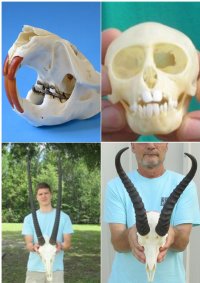 If you want to truly create unique décor pieces, then one of our many ethically sourced animal skulls can set you on the right path. With a plethora of different species of animal skulls to choose from, you will be able to find exactly what you are looking for. Choose from Wildebeest Skulls, Impala Skulls, Springbok Skulls, Gemsbok Skulls, Blesbok Skulls, Warthog Skulls, Sheep Skulls, Coyote Skulls, Bobcat Skulls, Raccoon Skulls and so many more! Animal Skulls are perfect for creating a rustic feel to a hunting lodge or log cabin.
All animal skulls have been ethically harvested and have been deemed legal for sale by the U.S. Fish and Wildlife Services and U.S. Customs.

Animal Skulls Cannot Be Exported.
Browse these categories under "Animal Skulls"